Another activities of CETEMCOM are manufacturing products of medium voltage electrical panels, sheet metal processing, laser cutting... CETEMCOM is an exclusive representative company of 3C ENGINEERING in Hungary and Europe. Over 15 years of operation, 3C ENGINEERING is a Vietnamese factory specializing in manufacturing those mentioned products. In addition to manufacture, 3C ENGINEERING has also completed wageworks for a variety of customers according to their requirements such as General Electric and Siemens.
With modern equipments, professional production management, advantages of high-skilled workers, low-cost labour force in Vietnam, CETEMCOM delivers products with high quality, on time delivery guarantee, highly competitive price to meet different needs and demands of our customers as well as wageworks. We are also able to process any metal sheets as request of customers with high accuracy. Moreover, rich material resource in Vietnam is also our advantage, the world's largest stainless steel producer located in Vietnam is one example.
We always strive to create the perfect product to the smallest details. In addition, employees are professional, creativitive and active in every project which we have involved.
With the motto "Cooperation for Success", and orientation "Continuous Improvement" we're always working on both human and material resources, build brand reputation, customer confidence with our products.
The trust and support of customers is a source of great encouragement on the way of our development. We hereby promise to constantly improve, the best customer service to always deserve the faiths.
If you have any questions, do not hesitate to This email address is being protected from spambots. You need JavaScript enabled to view it.. We are always ready to serve you.
3C Engineering had been equipped modern CNC machines of sheet metal processing. In the following, we present 3C ENGINEERING of available machines: details
– Laser cutting machine TruLaser 3030 Lean Edition –– Punching & Cutting CNC machine TruMatic 6000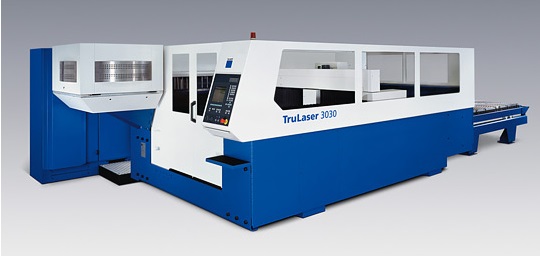 – Press brake CNC machine 250 tons TruBend 5230 –– Press brake CNC

machine 150 tons TruBend 5130 –– Press brake CNC machine 100 tons AMADA RG100 –– Press brake CNC machine 35 tons AMADA RG35

– Copper bar processing machine BOSCHERT CU-WK-2

– Pneumatic press PEMSERTER Serie4: force 6 tons, 45.7cm throat depth, self-clinching M2 to M10

– TIG, MIG welding machines
Designing, manufacturing and assembling all kind of electrical panels, switchboards, store racks...
Manufacturing metal sheet products by following customer's design and specification.
Some pictures from our products
| | | | |
| --- | --- | --- | --- |
| NEX 24 KV | Laser cut | Metal Processing | NEX 17,5 KV |
| Ditribution Boards | Sivacon S8 | Frames - Open rack | Sivacon 8PT |
| Medium Voltage Switchgear | Rack Cabinets | Cable Ladders - Cable Tray | Main Distribution Switchboard |
1. Laser Cutting Machine: Trulaser 3030 Lean Edition
The flexibility and reliability of these genuine all-around machines is exceptional
Future-proof due to machine concept that grows with your needs
Compact installation due to foldable pallet guides
Single cutting head strategy for all sheet thicknesses

| | |
| --- | --- |
| Working range: | 3000 mm |
| - X axis | 1500 mm |
| - Y axis | 115 mm |
| - Z axis | |
| Max. material thickness with TruFlow 3200 | |
| - Mild steel | 20 mm |
| - Stainless steel | 12mm |
| - Aluminum | 8 mm |
| Max. axis speed simultaneous | 140 m/min |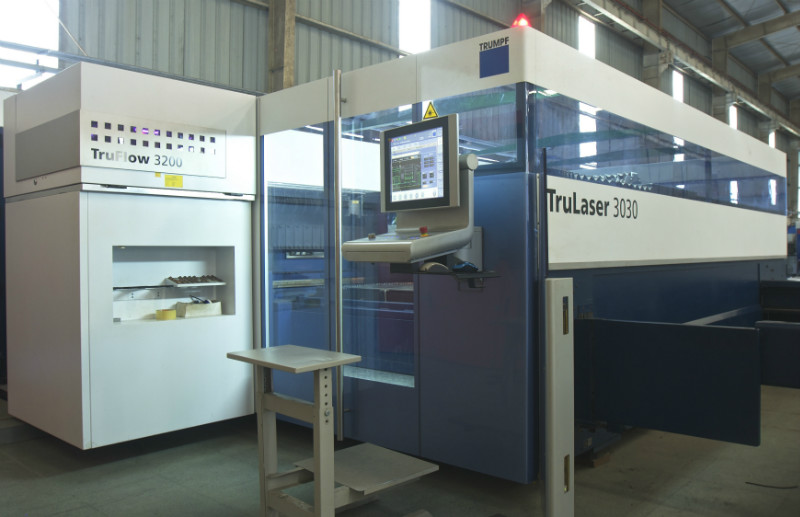 CNC Sheet Metal Processing Trumatic 6000
The TruMatic 6000 is the all-round machine of laser-punching combination machines from TRUMPF. With the combined technologies of laser cutting and punching, increasingly complex fabrication jobs can be performed with greater efficiency and higher productivity.

Working range (X x Y)

Large format

Combined punching/laser

2585 mm x 1650 mm

Punching operation

2585 mm x 1740 mm

Laser operation

2585 mm x 1650 mm

Max. sheet thickness

8 mm (mild steel)

8 mm (stainless steel)

8 mm (aluminum)

Max. punching force

220 kN

Max. stroke rate, punching (E = 1 mm)

900 1/min

Max. stroke rate, marking

approx. 2800 1/min

Tools, linear magazine

With multi-tools max.

18 with 3 clamps
180 tools

Max. axis speed

108 m/min (simultaneous X and Y)

TRUMPF CO2-Laser

TruFlow 2700,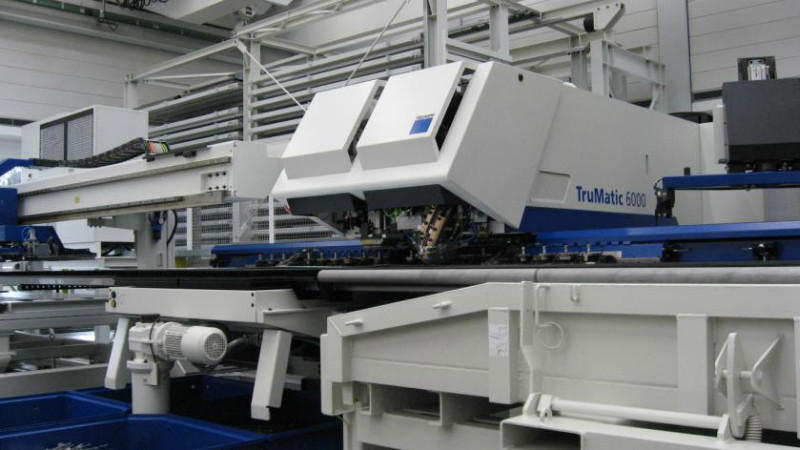 CNC Hydraulic Press Brake Trubend 5130 & 5230
Comprehensive, high productivity, from programming to tool set up to bending. The TruBend Series 5000 works reliably and well – and even automatically
| | | |
| --- | --- | --- |
| | TruBend 5130 | TruBend 5320 |
| Press force | 850 kN | 2300 kN |
| Bending length | 2210 mm | 3230 mm |
| Bending length with larger model (options) | 2720 mm | 4250 mm |
| Usable installation height | 385 mm | 615 mm |
| Throat | 420 mm | 420 mm |
| Rapid speed | 220 mm/s | 220 mm/s |
| Max. working speed | 10 - 20 mm/s | 10 - 15 mm/s |
| Control | TASC 6000, 3D Grafic, Touch Screen | TASC 6000, 3D Grafic, Touch Screen |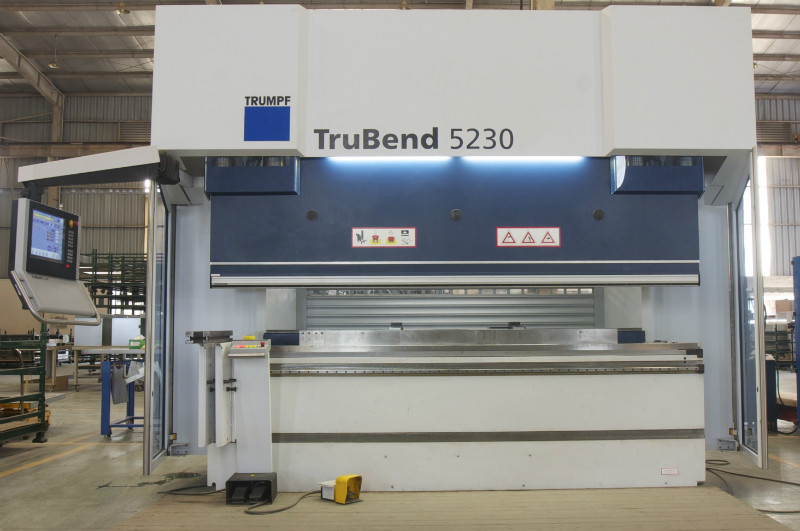 CNC Copper Processing Station Boschert Cu-Wk-2
The CU-Wk-2 CNC punching machine was developed specifically for the efficient processing of copper bars. The machine is equipped with five tool stations and can handle copper bars in lengths up to 6 meters with thicknesses to 15 mm
Max. Thickness

15 mm (with standard D-Station)

10 mm (with A/B-Station in Multitool)

Punching force

3 x 28 tons

Punching force

2 x 40 tons

Punching heads

5 (2 of it with Multitool)

Tapping unit / drilling unit max.

M16 / Ø 13,8 mm

Travel Y

1296 mm

Travel X

5644 mm

Material dimension

200 x 15 x 6000 mm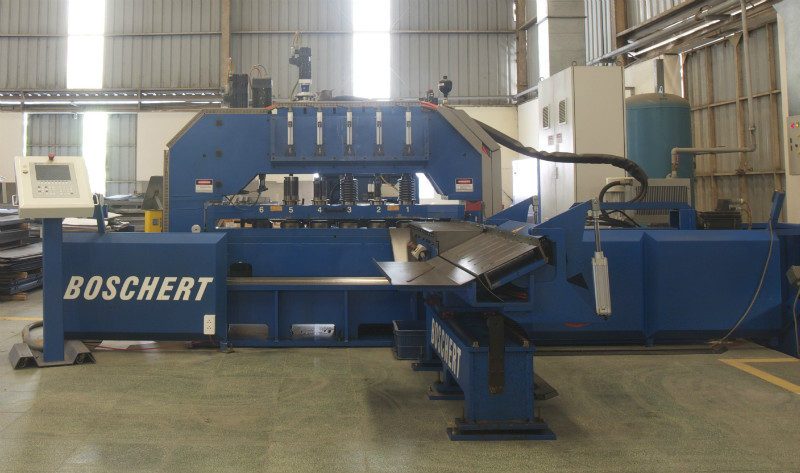 CNC Press Brake Machine Amada Backgauge Auto II - RG100 & RG35S

| | | |
| --- | --- | --- |
| | RG 100 | RG35 |
| Press force | 1000 kN | 350 kN |
| Bending length | 3000 mm | 3000 mm |
| Control | Touch Screen | Touch Screen |
| Max. Thickness | 3mm | 3mm |
| Control | Touch Screen | Touch Screen |

NC Shearing Machine Amada - M2545
| | |
| --- | --- |
| Max. Thickness | 4.5mm |
| Control | Touch Screen |
| Shearing Length | 2500mm |

Pneumatic Press – PEMSERTER® Series 4®
Press force

53.4kN/6 tons

Throat Depth

45.7 cm / 18"

Install Self-Clinching Fasteners

M2/#0 thru M10/3/8" in Steel

and sizes up to M12/1/2" in Aluminum

Air Compressor Machine – KOBELCO – VS730-37
Working pressure: 6-8 Bar
Max air flow: 1.19-7.3 m3/min
Motor power: 37kw
Driver: Direct
Starting by Inverter
Ventilation: independent motor